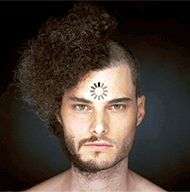 Love this guy. He invented this amazing
CopyrightPlus™
licence:
- copy, share, broadcast or download the protected content,

- consume or enjoy the content in any form,

- whistle or hum any excerpts of the music,

- talk about, listen to or even think about all or any parts of the music,

- read the tracklist, album description or any other information connected to the protected content.




Any violation(s) against the effective laws as mentioned above in §1 will lead to immediate legal action with highest possible severity, resulting in a €1000.000,- fine and the public immolation of your first born.
Also, he have this amazing interview in
New York Times
which isn't really in the New York Times.
Think about it, anything on the Web is really licensed under a CC-BY-NC license: everybody is happy if their stuff is being spread, but nobody would allow others to make money with it (without asking).
#listen his music (if u dare)
>>>